Weekend Retreats
The practice of conscious breathing, as taught by the Buddha, takes us directly to a place of peace and stability, to the most calm and stable place we can go. During the weekend retreat, we will come together as a community to enjoy the practice of mindful breathing, mindful sitting, mindful walking, mindful eating, and mindful listening. The community's collective energy of mindfulness as well as the trees, the birds, and the sunshine will also help us to embrace our thoughts and feelings as they arise, so that we can continue to feel solid and calm. The retreat's atmosphere is one of quiet joy!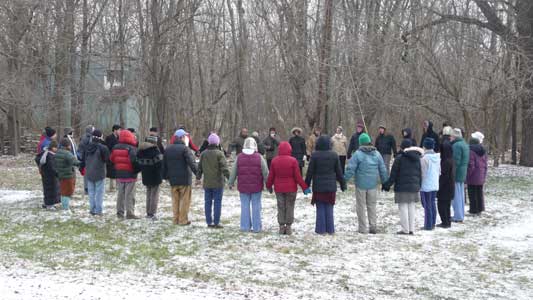 Retreat Schedule
Friday evening: Check-in (5 PM), Dinner (6 PM), Orientation (7:30 PM), Sitting meditation.
Saturday morning: Guided sitting meditation, Breakfast, Outdoor walking meditation, Talk.
Saturday afternoon: Lunch, Tea meditation, Total body relaxation / Mindful movements.
Saturday evening: Dinner, Group sharing, Sitting meditation / Touching the earth.
Sunday morning: Sitting meditation, Breakfast, Outdoor walking meditation, Talk / Questions and answers.
Sunday afternoon: Lunch, Closing circle, Ending (3 PM).

Claymont Court

The Claymont Court Retreat Center is located on 369 acres of forest and farmland in the Shenandoah Valley of West Virginia, less than 90 minutes by car from Washington, D.C., or Baltimore.
Room accommodation is of dormitory style with three or more beds per room. A limited number of rooms with two single beds are reserved for couples.
We ask that all participants be at least 13 years of age.